4
15th-place Tokyo Verdy will host 21st-place Iwate Grulla Morioka in the 21st round of J2. In this preview I'll focus on Tokyo Verdy but show data from both teams to preview the match and illustrate what we could expect from the match.
Recent Form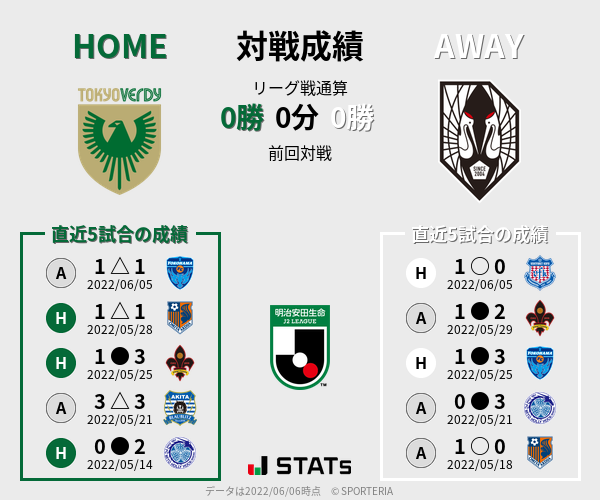 Verdy come into the match with 3 points from the last 5 matches, coming from 3 draws. Grulla Morioka have earned 6 points from their last 5, but with 2 wins and 3 losses. Verdy have both scored more and conceded more than Grulla Morioka in the last 5 matches.
Verdy had a very strong start to the season, going undefeated in their first 8 before recording just 1 win in their next 12. They're currently 6 games without a win, so while they're above Grulla Morioka in the table, they're in worse form. Verdy will see this as match as a good opportunitty to get that first win in a while, since 5 of their next 6 matches after Grulla Morioka are against opponents sitting below them in the table currently. Keeping their current form against lower-table opponents would be very dangerous for them at the halfway stage of the season.
Goal Scoring & Conceding Types
The graph below shows both Verdy & Grulla Morioka's scoring and conceding patterns. The graph on the left shows the number of Tokyo Verdy's goals scored by each type this season in green, with Grulla Morioka's goals conceded stacked on top in grey.
The graph on the right is reversed, showing Verdy's goals conceded in green with Grulla Morioka's goals scored stacked in grey.
The types of goals, from top to bottom, are:
PK
Direct FK
Cross
Throughball
Short pass
Long pass
Dribble
Rebound
Other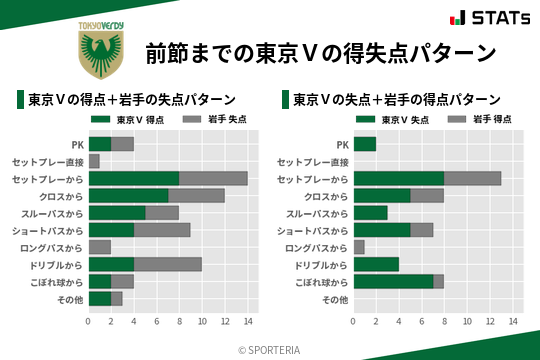 Verdy have scored from crosses the most this season, with 8 goals coming from crosses. Crosses are also Grulla Morioka's joint-most type of goal conceded, so Verdy's crosses should be a key point of their attack.
Crosses are also Grulla Morioka's top goal type, having scored 5 of their 12 total goals from crosses. Adding to the crossing excitement of this match, Verdy's most-conceded type of goal is, you guessed it, crosses. Verdy have conceded 8 goals from crosses, 1 more than they have conceded from rebounds (however, Grulla Morioka have just 1 goal from rebounds so this shouldn't be too concerning for Verdy this match).
Verdy's Recent Crossing Patterns
Red = Pass

Green = Cross

Blue = Dribble/run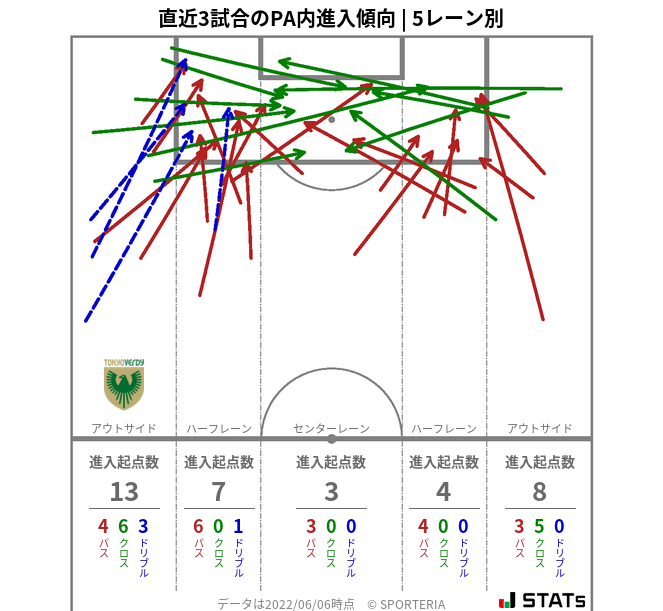 This chart shows the ways Verdy got the ball into the box in their past 3 matches.
We see how important the left flank has been recently, with 13, or 37%, of their entries coming from the far left flank. 11, or 31%, of their entries have been by cross, with roughly even numbers from both the left (6) and the right (5) sides of the pitch.
Verdy tend to use the left to dribble the ball into the box, with all 4 of their dribbles into the box recently coming from the left side of the pitch.
Overall, this image shows us that Verdy will most likely attack down the left, but will still use both flanks to cross the ball. If Verdy have done their homework, we should see plenty of crosses, as that appears to be Grulla Morioka's biggest weakness.
Verdy's Recent Pass Flows
These next images show the flow of passes from one area of the pitch to another in Verdy's last games. The arrows represent passes from one area to another (pitch is divided into 30 areas), with a darker red color representing a larger volume of passes.
This first image is from their last match, a 1-1 draw at Yokohama FC.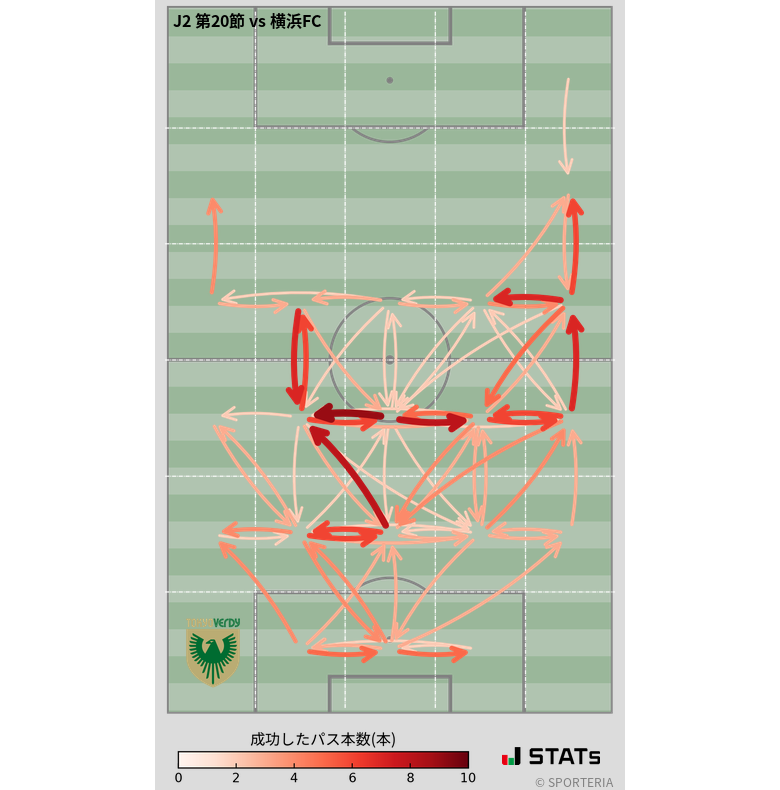 We can see how much they utilized the right flank, especially compared to the left flank. Verdy tended to move the ball from central areas in their defensive third to the left side of midfield, and then over to the right flank in the final third.
This next image shows their 1-1 draw vs Omiya Ardija passing flows.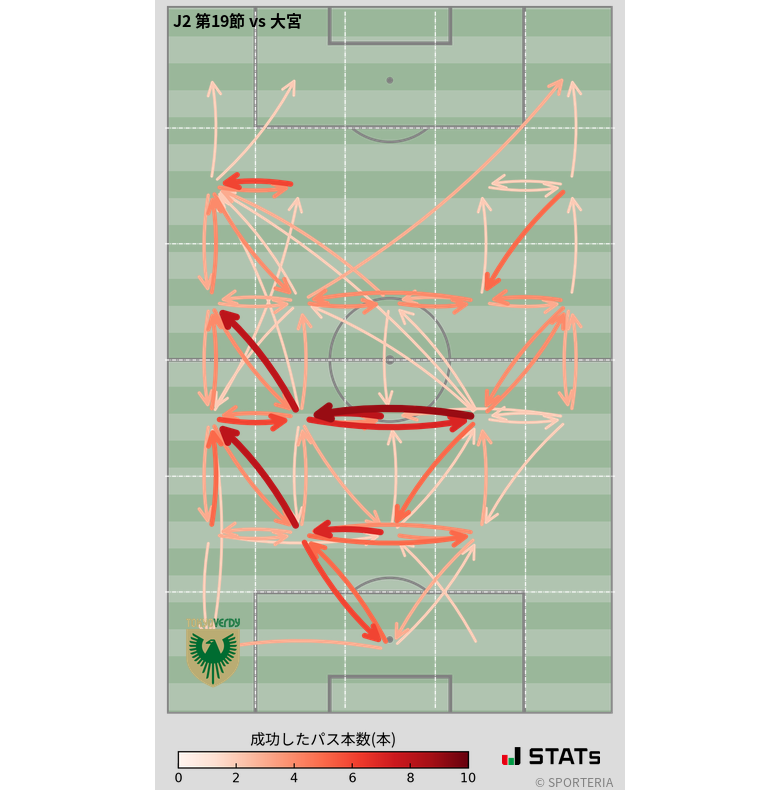 We can see a somewhat reversed pattern from the match against Yokohama FC. Overall, Verdy used the left flank much more than the right, but also tended to move the ball down the left in all thirds of the pitch.
Both of these charts show us that not only should we expect Verdy to play down the flanks and put in plenty of crosses because of Grulla Morioka's weaknsesses in that department, but also because that's how they have played recently anyway.
Final Thoughts
This match appears to be set up for Tokyo Verdy to get their first league win since May 4th. Verdy prefer to play down the flanks, put in crosses, and score from them. Iwate Grulla Morioka's biggest conceding weakness is also crosses, so Verdy need to take advantage of their superiority in this area.
If Tokyo Verdy play similarly to their last few matches, I would expect them to have a very good chance to win and gain momentum ahead of many games against fellow bottom-third teams. We'll be able to watch this match live (and on demand after) on J.League International's YouTube channel, so I'll be looking forward to seeing how Verdy approach this match and if it's in line with how the data says they should! It will be interesting to see how Grulla Morioka approach defending Verdy's strong crosses, so while this match involves two teams near the bottom of the table, there should be several elements to this match to watch for and enjoy.